Just another blog where thoughts and projects are shared…
And also under construction, so what you see is what you get.

Development
I have been developing on a professional level for the last years (frontend) and here I'm sharing some of my black magic voodoo tricks.
Read more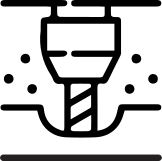 CNC
Besides my developer job, I'm focusing on CNC milling and engravement and invested in two machines, one X-Carve and a 3018 Woodpecker. Here I will cover things like projects, tips, and software administration.
Read more